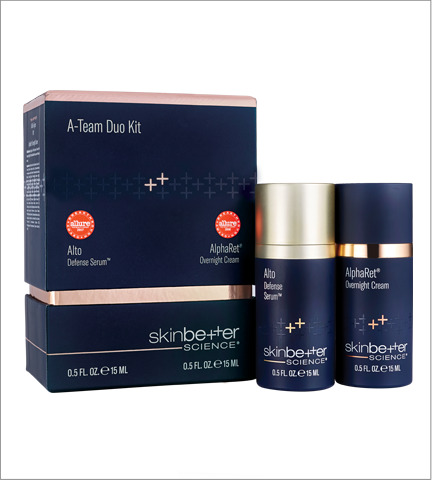 A-Team Duo Kit
Benefits

The Allure Best of Beauty Breakthrough award-winning duo from SkinBetter science is designed to provide support against the effects of daily oxidative stress and correct the appearance of lines, wrinkles, uneven texture and discoloration.
Alto Defense Serum
A scientifically-advanced, award-winning antioxidant technology.
Combines Vitamin C and E + 17 additional antioxidant ingredients designed to provide a new level of comprehensive and dynamic defense against free radicals.
Enhances vitality and improvement in skin tone and luminosity.
Reduces the appearance of skin redness.
Alpharet Overnight Cream
AlphaRet is the latest innovation in retinoid renewal delivering remarkable results with little-to-no irritation compared to other retinoids and retinoid-based products.
Significantly reduces the appearance of wrinkles in as little as four weeks, with little-to-no irritation.
Combines two gold standard skin rejuvenation ingredients— a retinoid and lactic acid—to create a revolutionary double-conjugated retinoid.
Provides moisture to help counteract dryness associated with traditional retinoid-based products.
A blend of antioxidants helps neutralize free radicals.
---
Medical Skin Aesthetics is a SkinBetter Science Authorized Physician Partner. This product is not sold online except through SkinBetter Science to ensure exclusivity and quality control. To make a purchase from our office, please call 415-847-3340. Shipping is free, and we provide same-day shipping Monday through Friday.
To purchase online, please use this exclusive QR code below. This link will allow you to enroll and grant you access to create an account to buy products from SkinBetter Science's online store. It is easy and quick to start shopping now; shipping is free.